To our visitors from around the world,
welcome to the website of Lodge St.Patrick here in New Zealand, lodge number 468 on the register of the Grand Lodge of Ireland, Dublin.
Irish Freemasonry has been a part of the New Zealand community almost 175 years. It is the oldest fraternal order in New Zealand and, on this website; we hope that you will enjoy reading and learning the truth about regular Masonry, and about the contribution Freemasons make to the community, both in this country and around the globe.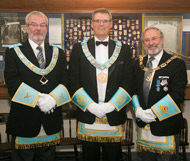 The Changing of the guard
October in Central Auckland, and the wet shining streets of the city mirrored Jack Vettriano's oil painting 'The Singing Butler' as, crowned with umbrellas, a zigzag ribbon of dinner-jacketed men, arm-in-arm with elegant women swathed in flowing, colourful evening attire, battled the elements to rendezvous…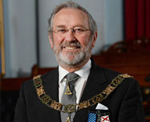 M.W.Bro. Douglas Grey - Grand Master
It was with considerable pageantry that the Grand Lodge of Ireland in Dublin installed its 44th Grand Master, Most Worshipful Brother Douglas Thomas Grey. Held at Freemasons' Hall, the ceremony filled the spacious, and impressive, Grand Lodge Room to capacity…
Alice in wonderland over award
Alice, a student of St. Hilda's Collegiate School, is this year's recipient of the 2016 Port Chalmers Marine Lodge Masonic bursary…
Chinese ladies thank the OMCT
Cruise ship passengers, tourists and any passers-by who ventured near Dunedin's renowned Chinese Gardens on a sunny Saturday morning were wowed by an unexpected colourful, musical event when the ladies of the Dunedin Chinese Association provided a dazzling display of dance and yao gu…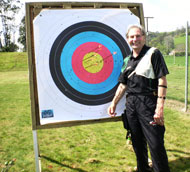 Stewart Stott – Freemasonry's Robin Hood
One Past Master of Lodge St. Patrick who has taken Robin Hood's concept of charity to a higher plane has to be V.W.Bro. Stewart Stott…
Remembering fallen Brother - L.Cpl. John Geary
The phrase "gone but not forgotten" could not have rung truer when, on 8 August 2015, a sizable contingent of Freemasons from the Irish, Scottish, English and New Zealand Constitutions, supported by family members…